System operators and maintenance personnel go to great lengths to keep air compressors clean and operating at peak efficiency. However, all too often the plant air system the compressor is feeding is neglected. Once the air leaves the compressor, it is important to have superior inline filters in place to ensure that the air going out to its application is as clean as it can be.
And Sullair's inline filters provide the highest quality filtration in the industry.
Multiple Filtration grades—From 1.0 to 0.01 micron and 0.5 to 0.003 parts per million oil carryover, Sullair has the element you need.
Filtration efficiency—All elements meet or exceed the stringent test requirements of ISO 8573.1.
Guaranteed Performance—Performance is guaranteed with element replacement annually.
POPULAR USAGE
Instrumentation, Food and Beverage, Electronics.

MAIN BENEFIT
Clean air, Oil content reduced to 0.003 mg/m3, Long life of elements, Easy access and serviceability.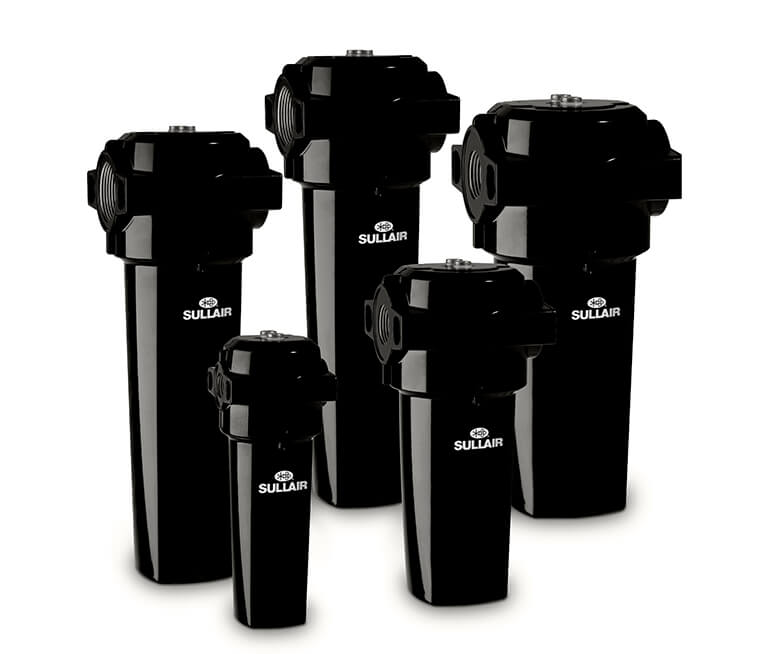 Capacity: 21 CFM – 33000 CFM
Pressure: up to 16 Bar Oil and Particulate filtration V
Series: 3 Micron dust filter Z
Series: 1 mg/m3 pre filter X
Series: 0.01 mg/m3 fine filter A
Series: 0.003 mg/m3 activated carbon filter
Float type drain
Differential Pressure gauge
Filter bank option
Capacity: 21 CFM – 33000 CFM

Pressure: up to 16 Bar Oil and Particulate filtration V

Series: 3 Micron dust filter Z

Series: 1 mg/m3 pre filter X

Series: 0.01 mg/m3 fine filter A

Series: 0.003 mg/m3 activated carbon filter

Float type drain
Differential Pressure gauge
Filter bank option